By Joseph W. Trindal, An Article Out Loud Flashback from Domestic Preparedness, originally published on February 24, 2010.
The 2010 earthquake in Haiti exposed many weaknesses in the local infrastructure. Learn how security gaps and concerns presented even more problems for the relief effort.
Narrated by Elisa DeLeon.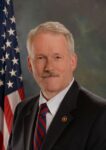 As founder and president of Direct Action Resilience LLC, Joseph Trindal leads a team of retired federal, state, and local criminal justice officials providing consulting and training services to public and private sector organizations enhancing leadership, risk management, preparedness, and police services. He serves as a senior advisor to the U.S. Department of Justice, International Criminal Justice Training and Assistance Program (ICITAP) developing and leading delivery of programs that build post-conflict nations' capabilities for democratic policing and applied modern investigative techniques. After a 20-year career with the U.S. Marshals Service, where he served as chief deputy U.S. marshal and ERT incident commander, he accepted the invitation in 2002 to become part of the leadership standing up the U.S. Department of Homeland Security as director at Federal Protective Service for the National Capital Region. He serves on the Partnership Advisory Council at the International Association of Directors of Law Enforcement Standards and Training (IADLEST). He also serves on the International Association of Chiefs of Police, International Managers of Police Academy and College Training. He was on faculty as an instructor at George Washington University. He is past president of the InfraGard National Capital Region Members Alliance. He has published numerous articles, academic papers, and technical counter-terrorism training programs. He has two sons on active duty in the U.S. Navy. Himself a Marine Corps veteran, he holds degrees in police science and criminal justice. He has contributed to the Domestic Preparedness Journal since 2006 and is a member of the Preparedness Leadership Council.