By PAUL GUNNELS, An Article Out Loud from the Domestic Preparedness, September 13, 2023.
This author reflects on his team's direct mission to New York in response to the September 11, 2001, terrorist attacks, commonly referred to as 9/11, to consider if communities are more prepared today than they were in 2001.
Narrated by Bonnie Weidler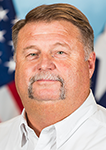 Paul Gunnels has 37 years of experience in emergency services and is currently a regional section chief for the Texas Division of Emergency Management (TDEM). He retired from the College Station Fire Department as an assistant chief, former rescue program director for Texas A&M Extension Service, and a member of Texas A&M Task Force 1. He holds a bachelor's degree in Emergency Management from West Texas A&M University and a Master of Public Administration and Policy degree from Grand Canyon University. He also is a graduate of the Executive Fire Officer Program at the National Fire Academy.