An Article Out Loud from the Domestic Preparedness Journal, November 23, 2022.
Despite punishing hurricanes in Puerto Rico and Florida, the 2022 season has been relatively quiet for much of the Gulf coast and Atlantic seaboard. This article describes the resources that help communities mitigate risk now before the next hurricane season.
Narrated by MacGregor Stephenson.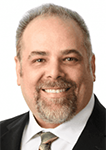 Mark J. Misczak, CEM, is senior vice president, chief operating officer at Tidal Basin. He has worked in disaster preparedness, response, and recovery for more than 30 years, most of which was spent serving at the U.S. Department of Homeland Security's Federal Emergency Management Agency (FEMA). His work at FEMA included command roles in the largest disasters in our Nation's history. His former federal titles include: branch chief – FEMA Region VI, deputy FCO, director of the Office of Cerro Grande Fire Claims, and acting director and deputy director for Individual Assistance (At the time of his departure, this was the largest division within the agency). At FEMA, and through his subsequent leadership at emergency management consulting firms, he has led complex programs and projects resulting in the delivery of billions of dollars in federal recovery and resiliency funding.