After a disaster strikes, emergency managers answer the call for help when the public needs them the most. However, the public sometimes has misconceptions about who emergency managers are and what they do. After something happens is not when meetings with the public should occur for the first time. First responders – such as fire, law enforcement, and emergency medical services – have a distinguishable daily impact on their communities. Although emergency management's impact is less palpable to the community, it is no less critical. Emergency management agencies must find ways to emphasize the worth and result of their efforts within the community to ensure the sustainment of efforts and progress that will be vital in the years to come. Emergency managers can rebuild previous and foster new relationships to serve their communities better by being present during blue-sky and gray-sky days.
The Anne Arundel County Office of Emergency Management (OEM) in Maryland has worked diligently to shake up its traditional public outreach approach. Spurred by COVID-19 challenges and the lack of in-person connections normally afforded, the agency leadership's mindset about public outreach began to change. Re-launching in-person events has involved adjusting methods to connect with diverse groups within the community and sharing information on preparing for emergencies. Even small changes proved to have significant impacts. For example, rather than inviting community members to an emergency preparedness event or simply setting up an outreach booth at a major event to pass out preparedness tips, the agency sought out local events and made emergency preparedness part of their events. Attending an area's community fair, a cultural festival, or the local pride parade provide opportunities for deeper conversations with specific groups of people that may have unique needs.
Engaging Underserved Communities & Families
When this type of integration happens, it is a mutually beneficial learning experience. One such instance was a connection that began in 2021 with the local LGBTQ+ group, Annapolis Pride. By the time the OEM outreach staff attended the local pride parade in 2022, they were met with joy and excitement that they were there to support their community. Like any outreach event, the OEM gave away many helpful handouts on how to stay prepared at home and gained emergency alert subscribers and social media followers. However, the newly discovered benefit was in the follow-up conversations and asking how the OEM could help them. This additional level of interaction provided OEM leadership with an awareness of previously unmet needs and a new perspective on how to serve the community.
In that example, an adjustment of internal plans ensured that the OEM would accommodate nonbinary and transgender individuals and provide special assistance and safety-related resources to LGBTQ+ children after a disaster. Later discussions with Annapolis Pride to share these county emergency plans and procedural changes further enhanced the relationship as they saw the mutually beneficial results of their partnership with the OEM. If the emergency plans do not explicitly address these topics, there is no guarantee that the extra support required will be available to them when needed most.
Emergency managers grow in their field and can safeguard the whole community through these types of personal connections. Anne Arundel County has had similar positive results when attending events like the Hispanic Heritage Festival, Korean CultureFest, and Juneteenth celebrations. OEM specifically targets the areas that need additional support and builds trust and communication with the community's underserved populations.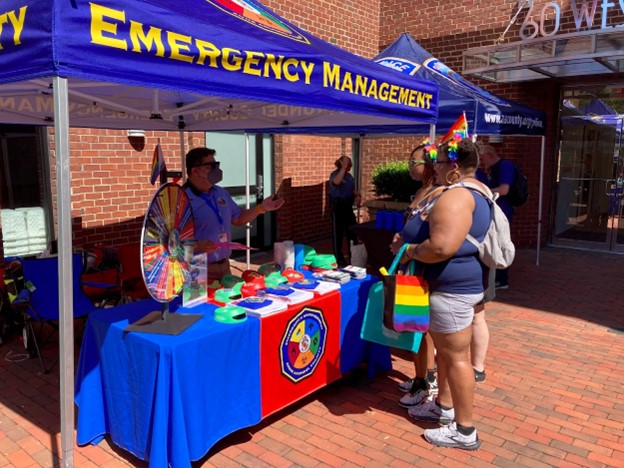 In 2022, the OEM continued to expand its whole-community public outreach efforts by building awareness about what emergency managers do, how the OEM can help, and how community members can better prepare for future emergencies and disasters. These efforts included:
"It's a Snow Day" – To build student awareness of how the OEM responds to winter storms and other natural disasters;
Shadow day contest – To encourage high schoolers to write about preparedness, with winners shadowing the OEM director;
Youth Internship Program – To introduce youths to potential careers in emergency management;
Pepper the Preparedness Pup – To engage young children through animated videos and adventure workbooks;
Hispanic Outreach – To build stronger relationships with the Hispanic community through presentations and programs with a native Spanish speaker;
Food Insecurity and Resilience – To create agricultural partnerships within the county;
Houses of Worship Seminar – To build awareness of best practices and facilitated discussion through an interdenominational webinar series; and
Emergency Preparedness Expo – To provide a free and fun event for the entire family to increase individual and community preparedness.
Reaching Out to the Whole Community
Along with the dividends these relationship-building efforts paid, the OEM has also sought to address the significant issue of proving its worth to the community and elected officials. For that reason, the OEM pulled together some of the highlights of 2022 and developed its first Annual Report: A Year in Review with an accompanying short video. As a field, emergency managers sometimes have a tough time letting the community know their accomplishments and how they impact public safety. In times of dwindling budgets and competing interests, without unequivocally proving the benefits an agency brings, emergency management could become a justified place to cut funding, especially when a disaster is not recent in an official's memory. Therefore, developing this annual report has been beneficial and one of the agency's most accessed resources.
There also are internal benefits, such as building morale by highlighting the group's work and helping recognize each section within the office and its milestones. With a simple mindset change, there is a noticeable change in the community's response to the agency. When attending regular outreach events, other participants now say things like, "We've seen you guys before," which is a significant step in the right direction. People often share feedback about how their families have built up their emergency kits using the OEM's handouts and tips or how they recognize OEM staff from a previous event. As a result, the increased visibility is helping the whole community prepare for a disaster while mutually assisting the agency in better meeting the community's needs. For agencies in any jurisdiction, expanding this reach can begin with some of the following actions:
Meet the community where they are – Community groups meet on a regular basis, and contact information is not difficult to find. Offer programming content for their meetings or, even better, find a concern or topic that the group already has and relate it to preparedness or OEM efforts (Parent-Teacher Association groups look for family preparedness information and resources, school systems look for career professionals for Career Days and mentoring, senior centers look for content such as bingo and quiz games, etc.). Work with libraries and community centers to create events. These locations are often the heart of many communities and appreciate new content to provide to their patrons. Being flexible with how the message of preparedness is delivered allows agencies to integrate that message more easily into the group's needs.
Get help – Outreach and community engagement should be a function of every emergency manager, from planners to directors. Everyone in the office should be engaged in some type of outreach activity to improve public speaking skills and to verbalize the importance of the work. Also, look to outside local or state agencies to tag along. Agencies like police and fire may have resources to dedicate to community outreach and are willing to share the spotlight to support public safety. They also may be acquainted with other populations where they can provide vital introductions.
Track progress – To improve something, it first needs to be measured. Identify specific metrics to show public safety efforts and consider putting these metrics on the office website for all to see, or in an annual report.
Significant partnerships are continuing to form two years into this new outreach mindset. However, growing evidence shows that these efforts will enhance future disaster responses. With many partnerships throughout the community, there is a good chance that residents will recognize their local emergency managers and trust their guidance the next time a crisis occurs.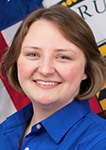 Taylor Bonsall-Winn is an Emergency Management Planner at the Anne Arundel Office of Emergency Management. Originally from the greater Seattle area, she entered the U.S. Air Force, serving entirely overseas in special operations support functions and a NATO-allied flying unit. During her assignments, she worked in emergency management operations and often traveled to support U.S. allies in high-stakes operations. After her service, she attended the University of Maryland, College Park, where she continued her studies before joining Anne Arundel OEM.