By Nicolette Louissaint, An Article Out Loud Flashback from Domestic Preparedness, originally published on May 16, 2017.
COVID-19 tested each community's resilience against that and other simultaneous threats. This 2017 article points out, though, that improving preparedness and response capabilities requires more than just grit.
Narrated by Michael Grubb.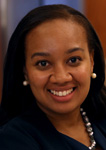 Nicolette Louissaint, Ph.D., is the interim executive director at Healthcare Ready. Previously, she served as a foreign affairs officer at the U.S. Department of State in the Bureau of Economic and Business Affairs as the lead officer for health intellectual property and trade issues. During the height of the Ebola Epidemic of 2014, she served as the senior advisor to Ambassadors Nancy J. Powell and Steven A. Browning, the State Department's special coordinators for Ebola. She holds degrees in Chemical Engineering and Biological Sciences from Carnegie Mellon University, as well as a Ph.D. in Pharmacology and Molecular Sciences from Johns Hopkins University School of Medicine.