In an era where severe storms have become a perennial concern, natural disaster preparedness has grown significantly. In the winter of 2022-2023, a deadly blizzard in Upstate New York left people buried in their homes. In the spring of 2023, a violent tornado outbreak claimed over 60 lives. These events demonstrated how treacherous a lack of preparedness can be to emergency responders during weather disasters. Many states, particularly those on the eastern seaboard, continue bearing the brunt of an unprecedented hurricane season due to record-warm sea surface temperatures, leading to more tornados, floods, and even fueling wildfires. Incorporating preparedness and response technologies helps emergency preparedness professionals manage the onslaught of unique weather emergencies and severe climate conditions.
Lack of Preparedness During Severe Weather
State and local officials in every state need weather preparedness plans that reflect the increased complexity of responding to natural disasters. Typically, northwestern states have timid weather conditions during spring and summer. Meanwhile, the southwest typically experiences extreme heat during these months. While state and local agencies know how to respond to these expected weather events, recent years have proven that the downstream effects of disasters exacerbate the impact of weather-related events. One example occurred in September 2023, when more than 70,000 Burning Man festival attendees became stranded in the middle of the desert due to area flooding.
The results can be catastrophic if a state or city does not have an updated emergency management strategy. For example, a blizzard in Buffalo killed 47 people during the last days of December 2022. Some citizens who required emergency assistance lost their lives because the extreme snow, ice, and wind prevented first responders from reaching them, while others died due to power outages. Even though the city is accustomed to winter storms, it did not have the infrastructure capable of responding to such an abnormally severe storm. Communication systems were overwhelmed, causing delays in rescue operations. While Buffalo is no stranger to winter storms, the city was unprepared for the intensity of this event. Contrast this with the heat waves in the Pacific Northwest during the last few summers. Triple-digit temperatures took an estimated 441 lives between June 27 and July 3, 2021, when many residents without central air conditioning died in what is a typically mild climate.
The Intersection of Technology and Planning
Emergency managers, public safety officials, and other community leaders are responsible for evaluating how prepared their regions are to respond to severe natural disasters and making the appropriate upfront investments to guard against them. By leveraging the right technology to assess their communication, coordination, and overall response plans, they can also consider the increase in national and regional weather-related disasters.
Technology can improve the efficacy of disaster response preparation and the competence of deployments during an incident, reducing potential loss of life and preventing millions or even billions of dollars in damage. However, some emergency management plans use antiquated processes and rely on spreadsheets, emails, and chat applications. Leaders can better prepare their communities by pairing a modern emergency management platform with current and future response plans.
Emergency management software can help community leaders maintain situational awareness by automating workflows, organizing crisis response strategies, and distributing notifications during critical weather events. The right platform provides a faster and easier way for community crisis managers to update necessary elements in their disaster preparedness strategies, communicate to enhance situational awareness, create a common operating picture, and empower key stakeholders to access critical data when needed. Compared to the status quo, the right platform offers functionalities like real-time data analytics, geo-tracking, and centralized information sharing. This not only expedites updates in disaster preparedness strategies but also fosters enhanced communication, creating a unified operating picture.
In a comprehensive management approach to navigate the intricacies of severe weather, emergency preparedness and response technologies are critical in four phases:
Assessment emphasizes recognizing and understanding potential risks – from power outages to significant infrastructure damage. Implementing proactive measures such as investing in the construction of levees or creating cooling centers in the summer requires long lead times that require compelling assessments that support these capital investments. An emergency management platform assists with assessment by evaluating current conditions and potential outcomes. For example, areas currently experiencing extreme drought could be threatened by flooding as climate conditions shift in response to large-scale meteorological forces and human-driven action.
Preparedness involves designing robust, flexible response plans that outline all stakeholder roles – from emergency responders to private-sector partners. Ensuring situational awareness and enhancing real-time collaboration through integrated critical event management systems further solidify this preparedness. Preparation is about ensuring that the right people are in place and that these people are prepared for disasters. In the case of flooding, for instance, preparedness focuses on equipping community leaders with the training and technologies they need to handle potential hazards as they occur. 
Response signifies the crucial juncture where strategic planning transitions into tangible action. During a crisis, the need for clear, timely communication rises, with officials relaying vital updates in a clear and timely manner. Lapses in this communication chain can have serious consequences, causing a loss of public trust and potentially costing human lives. Battle-tested technology is pivotal in this phase, ensuring seamless communication and fostering robust team coordination. When a community faces power or network outages, the true value of modern software comes into play with features like offline modes and data synchronization when reconnected. Alternative methods for connecting to the internet, such as satellite communication, will fortify this continuity.
Recovery focuses on the aftermath of a disaster. The primary objective is to rebuild and restore affected areas to their former state or better. Modern solutions make it easier to collaborate with stakeholders to expedite damage assessments, crowdsource information, complete documentation for disaster declarations, and receive disaster relief funding.
The Imperative of Preparedness in a Changing Climate
In an age marked by climate challenges, the emphasis on proactive emergency management is critical. Severe blizzards and unprecedented heat waves highlight communities' multifaceted challenges. Navigating these challenges will involve harnessing technology to foster collaborative preparedness and response capabilities.
Emergency management technologies enhance communication, establish situational awareness, and empower decisive action in adversity. Charting the path forward, preparedness, adaptability, and commitment to leveraging technology to meet local and state needs will be the cornerstones of building resilient communities.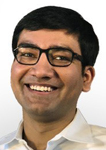 Akshay Birla is the chief client officer at Juvare, a provider of emergency management solutions for public and private organizations committed to optimizing their resilience strategies. He previously served as Juvare's vice president and chief marketing officer. Juvare's solutions are used across various industries, including healthcare, aviation, education, utilities, state and local governments, federal agencies, and government defense organizations.