A crisis can occur when a situation becomes unstable, circumstances suddenly change, or tension and stress heighten. However, not all events need to reach the level of a crisis or disaster if proper preventative measures are taken. Preparing for and possibly preventing a crisis mean thinking outside the box, creating good habits, developing a plan, and then implementing that plan.
The first article uses the Cynefin Framework to provide a conceptual picture of the simple, complicated, complex, and chaotic aspects of the COVID-19 response. Such frameworks can facilitate and expedite the decision-making process for leaders during the emerging phase of an event. The second article describes how daily routines – good or bad – can significantly affect the productivity of preparedness and response efforts and ability to recover after an event. By developing these 10 good habits, preparedness professionals can adapt quickly to sudden changes and reduce stress and tension, which could otherwise turn a problem into a crisis.
The third article provides the basic information and components needed to develop an effective crisis response plan. Although this article focuses on schools, similar elements are essential for any crisis response plan – defined roles and responsibilities of all key stakeholders, effective communications and interoperability, accountability, logistical considerations, adequate resources, and recovery plan. The fourth article urges communities to prioritize and do something with their plans and initiatives. A plan without implementation serves little purpose. However, by allocating resources and executing plans, leaders can future-proof their communities from potential risks and threats and thus avoid incidents that would otherwise turn into crises.
This February edition of the Domestic Preparedness Journal shares these four key elements to help communities prepare for any crisis. This issue also contains two special announcements. First, the new Editorial Advisory Committee is now in place for 2022. Their broad areas of expertise will enhance the content and bring new ideas as the journal continues to serve preparedness professionals across disciplines and jurisdictions. Their service to their communities, their industries, and the journal are greatly appreciated. Second, this month marks the beginning of a new offering for Domestic Preparedness subscribers. New articles will also be available in an audio version called "Articles Out Loud," which is located under the podcast channel.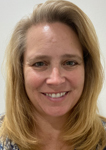 Catherine L. Feinman, M.A., joined Domestic Preparedness in January 2010. She has more than 30 years of publishing experience and currently serves as editor of the Domestic Preparedness Journal, DomesticPreparedness.com, and the DPJ Weekly Brief, and works with writers and other contributors to build and create new content that is relevant to the emergency preparedness, response, and recovery communities. She received a bachelor's degree in international business from the University of Maryland, College Park, and a master's degree in emergency and disaster management from American Military University.