Communicating preparedness messaging is simple. According to sociology professor Benigno Aguirre, messages should be clear, understandable, accurate, credible, and specific. Messages should also be universal, timely, self-validating, and available everywhere. If the entire population received all information the same way, this would indeed be simple. However, public information officers know that there is no single communication solution for every situation. It is essential to use multiple forms of messaging to ensure people receive the message, whether they are at work, at home, at school, etc. It is a constant challenge to identify vulnerable populations within the community and then determine how and where they will receive messaging, use language they find clear, understandable, and believable, know from whom or what source they draw credibility and validation, and what triggers will prompt them to be decisive and take appropriate action in a timely manner.
The following factors all play a role in how people react and respond to messaging:
Gender
Political persuasion
Marital status
Housing status
Age
Race
Economic status
Language and culture
Citizenship status
Religion
These demographics can also influence which sources of information people trust and the chosen medium affects the reception and validity of the message. In general, one of the biggest disruptions to communication has been the rise of social media. What seemed to some like a passing fad 20 years ago has enabled instant global communication all at once. But, trust levels vary widely – while 50% of young adults trust information from their social media feeds, only 20% of senior citizens do. Not only age, but gender, race, language, and politics affect social trust. Issues with misinformation are increasing, eroding trust on many platforms.
Complicating matters, the platform of choice is constantly evolving. Facebook was used by 71% of teens in 2015 but decreased to 32% by 2022, with senior citizens increasing their use on the platform to 50%. Meanwhile, 95% of teens are now on Youtube and 67% are on Tiktok, which only launched in 2018 and is already facing usage bans around the world. It seems that, just when a communication campaign has adapted to current trends, it is already out of date. This presents a challenge for risk communication teams: how to stay connected to the population they serve in an ever-changing environment. It also presents a challenge for instructors trying to teach these principles to emergency management students. This article highlights findings and recommendations from a recent exercise by undergraduate students in collaboration with a state emergency management team.
Social Media Outreach Assignment
At Paul Smith's College, students in the Disaster Management and Response program are introduced to these principles with an assignment to work as a team and develop a disaster preparedness communications campaign with all the characteristics of effectiveness detailed in the Aguirre article mentioned above. In Fall 2022, new criteria were introduced, specifying that the assignment:
Be designed for social media, with short soundbite-style messages;
Include the development of relevant hashtags;
Specifically target winter weather preparedness in upstate New York; and
Target some of the messaging to residents and some to tourists.
These additional requirements forced complexity on the students. They would have to address populations that have different vulnerabilities to the same hazard, trust different sources of information, and have access to different resources for preparedness. They also would have to identify which platforms are used by which populations and what messaging is most effective on each platform. The class was divided into three teams, each of which would develop their own campaign. New York State Office of Emergency Management (NYSOEM) personnel were asked to "guest judge" the submissions. This increased the significance of the assignment for the students, provided some levity for the NYSOEM team, and produced some surprising results.
Same Goal, Different Approaches
The most significant outcome of this exercise was that quality messaging could be conveyed effectively on social media in a fun and potentially viral way. Student messaging was accurate, relevant, and specific, even though the approaches chosen by the three teams were quite different. Topics included cleaning the chimney, how to prepare for a storm or winter travel, snowplow safety, and pet safety in winter. These topics were intermixed with fun and even silly posts, such as an admonition to avoid yellow snow, use of the popular "Buff Dog vs. Cheems" meme, and even a play on the I♥NY logo. One group chose a campaign entirely focused on preparedness for snow days using the hashtag #itsasnowday. In upstate NY, a snow day does not happen often and usually means extreme sub-zero temperatures or blizzard conditions. They focused on having fun and keeping safe by dressing appropriately, not overexerting when shoveling, taking breaks inside, practicing fire safety, and hydrating with hot chocolate!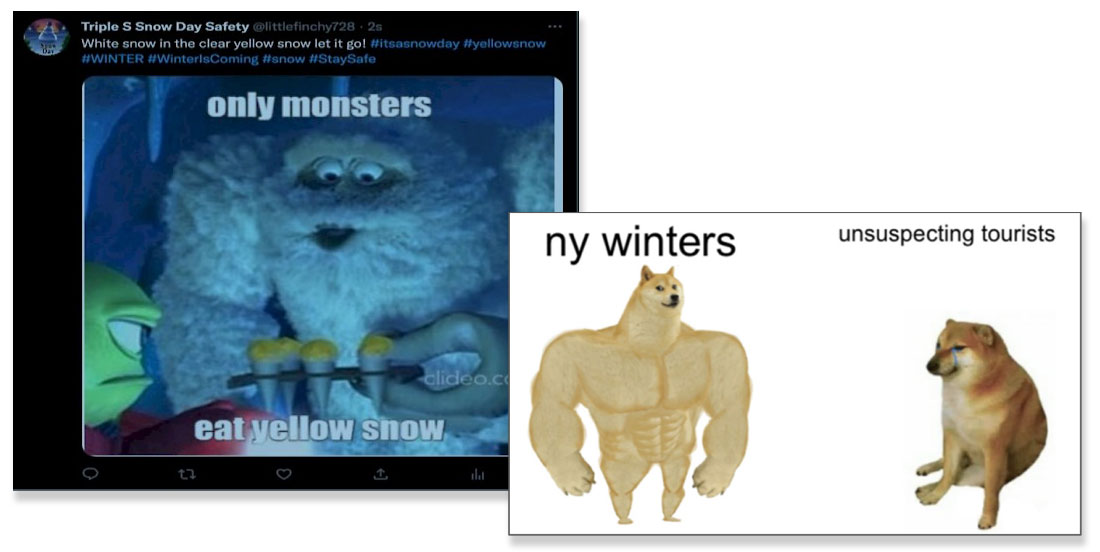 The student campaigns alternated between Twitter and Instagram as the medium of choice, and their images ranged from memes to personal photos and video clips to colorful poster-style content. This reflects how they typically use these platforms and the type of content they would instinctively share but with more intentionality about the messaging. Daily review of their favorite influencers and topics is a steady source of trusted information for the current young adult generation. However, the content they created is easily transferable to Facebook, where a different generation absorbs content.
Students identified relevant hazards, such as chimney fires and known vulnerabilities such as tourists unprepared for driving conditions or attempting selfies in hazardous conditions. They also highlighted common dangerous behaviors by residents, such as being underdressed for short trips and, as previously mentioned, designed a specific campaign for parents facing an unplanned snow day. However, one area of shortcoming was a failure to identify potential messaging to minority or non-English speaking populations, whose small numbers in the target region increase their vulnerability.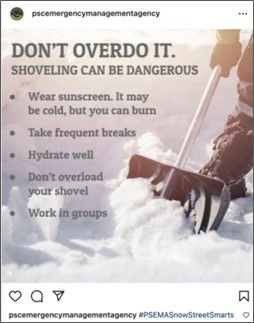 Fig. 3. An example of great risk communication.
The use of hashtags allows users to search and then follow content using the same tag. A clever hashtag can start a viral trend, with an increasing number of users seeing the post. Hashtags the students used also ranged from the banal to the ridiculous: #DontLetYourToesBeAsBigAsTheRedApple is probably not going to catch on, but #impalecicle might remind people to watch out for falling ice! The hashtag #dresstosurvive could start a trend of people posting selfies bundled up for the cold, effectively delivering the preparedness message beyond the reach of the original post. Another strategy the students used was to hijack already successful hashtags, such as #winteriscoming, made popular by Game of Thrones. This approach reaches anyone following the hashtag, not just those following the original poster, and seeks to attract a new audience who are introduced to content through the hashtag but start to digest other posts as well.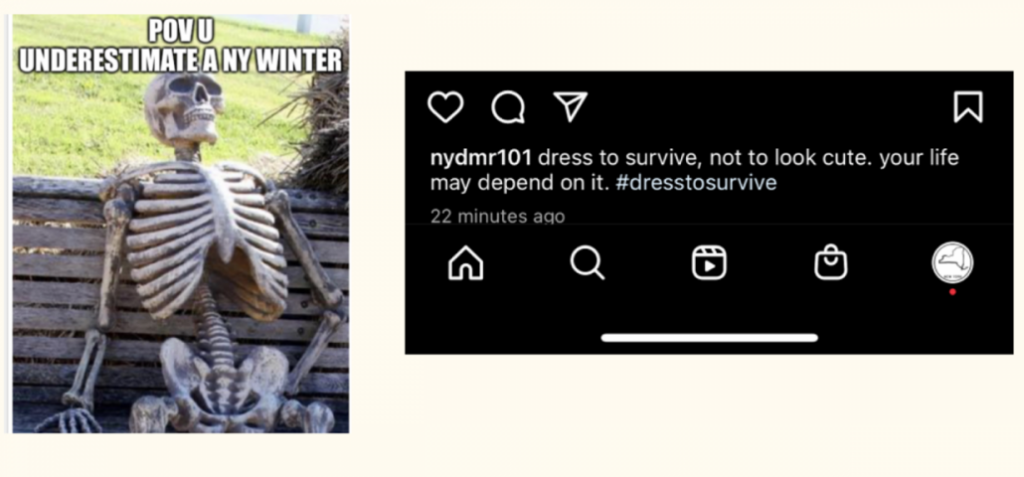 Fig. 4. The popular POV skeleton meme, with a clever hashtag.
Considerations & Caveats for Similar Campaigns
This exercise generated some interesting ideas for NYSOEM. One is the value of partnerships with higher education as part of a whole community approach to preparedness:
Students can apply their knowledge of good risk communication to relevant social media content; and
The content generated by the students was outside the typical government social media presence and more in line with current social media trends.
Collaboration with members of a target demographic to develop relevant messaging can be an effective component of community preparedness.
Something not really anticipated was the potential of memes for increasing the audience. For example, the use of the popular POV skeleton meme is good for a laugh, which then gets reposted or shared. The messaging is a simple reminder targeted to a younger demographic. Also, people tend to follow creators of the content they enjoy, increasing viewers of other informative posts. Similarly, the use of trending hashtags reaches external audiences. One idea is to leverage successful tourism campaigns, such as I♥NY  or Virginia is for Lovers. This gets the risk preparedness messaging into the feeds of past and future tourists.
Of course, social media has its pitfalls. Even the best campaigns can fall prey to being misappropriated. The very nature of social media content is the ability for it to be modified and iterated. Yet, younger generations are verifying their ability to filter content and differentiate between fact and fiction. Having a social media presence that mixes lighthearted content with relevant, specific, and accurate information builds credibility and becomes another tool to communicate preparedness to vulnerable populations.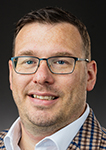 Chris Sheach, CEM®, is an assistant professor of Disaster Management and Response at Paul Smith's College, in the Adirondacks of New York. Building on an undergraduate degree in Intercultural Studies (Houghton University, NY), Chris earned a Master of Arts in Disaster & Emergency Management (Royal Roads University, BC, Canada) and is completing a Ph.D. in Fire and Emergency Management Administration (Oklahoma State University). He is a certified emergency medical technician (EMT) and a volunteer firefighter. Before teaching full-time, he worked for 15 years in international disaster response and recovery. He operated in several combat zones and led teams in the aftermath of natural disasters, including tsunamis, volcanoes, hurricanes, and earthquakes. Born in Canada, he has spent more than half of his life abroad, traveled to 36 countries, and lived in places as far away as Indonesia, Zambia, Vietnam, and Mozambique. Along the way, he has learned seven languages and picked up a love of soccer, spicy food, and good coffee.