As the United States continues to respond to the coronavirus pandemic, police departments across the country are beginning to feel the impact of the virus on their day-to-day staffing. In New York, three officers have died, more than 900 members of the NYPD have tested positive for the coronavirus and 5,200 have called out sick. In Detroit, Michigan, two officers have died due to the coronavirus, including a 38-year old dispatcher and nearly one-fourth of the force is quarantined. In Puerto Rico, the entire police department of Rincón is quarantined. In California, law enforcement officials are exploring the option of assigning detectives, administrative personnel, and special operations personnel to street duty. However, the country has other reinforcements that should be deployed.
In addition to their normal tasks, some police departments are being called on to enforce social distancing orders, while others are cutting back on services. Routine enforcement of impounding cars, issuing traffic citations, and even minor arrests are being put on hold as departments struggle to ensure the health and safety of law enforcement officials.
In Philadelphia, Pennsylvania, thefts of vehicles nearly doubled to the highest numbers in almost a decade, after the police department issued new guidance altering the arrest policy. Under the new policy, offenses such as retail theft, automobile theft, narcotics offenses, vandalism, and prostitution would not be sent to jail. Instead, they will be given paperwork and released.
Understanding Military Roles & Services
As experts warn that the worst of the pandemic is yet to come, it is unclear if some police departments will be able to continue to provide services. Previous pandemic planning assumptions indicate that as much as 40% of the workforce may be absent during the peak of a pandemic. One possible solution is to utilize the military to help enforce law and order. Generally, this option would be considered as one of last resort – as military personnel are not trained in law enforcement techniques and tactics. However, this pandemic calls for the examination of nontraditional methods and solutions.
The role of the military in a domestic response assignment is limited by the Posse Comitatus Act of 1878 (PCA). The PCA is a law designed to act as a limitation, so that the military does not infringe on the police powers reserved to the states. Importantly, in this context, PCA limits the law enforcement role that military forces may perform. There are nuanced differences in the types of activities allowed. Activities typically fall into one of two categories – direct active use or support of law enforcement.
Direct active use refers to traditional law enforcement activities, such as writing tickets, conducting searches and seizures, investigating crimes, and pursuing escaped prisoners. These types of activities are not allowed under the PCA. However, activities such as providing vehicles, technical assistance, transporting criminals, or providing aerial surveillance are deemed as being in support of law enforcement – and thus allowed.
When applying the PCA to the National Guard there are further considerations. There are three activation options for National Guard troops: state active duty, full active duty under Title 32, or federalized duty under Title 10.
Currently, more than 8,000 of the approximately 350,000 National Guard troops are assisting with the pandemic response effort. These troops have been deployed under Title 32 status, which was approved by President Trump on 22 March 2020. Title 32 provides federal funding for the Guard while having them remain under gubernatorial command.
The PCA does not apply to National Guard personnel that are operating under the command of a governor. As PCA does not apply, these troops are able to provide a wide range of supporting functions. This includes providing law enforcement functions, which may be needed if local police departments see a dramatic uptick in illness.
Calling on the National Guard to respond in this time of crisis allows for much greater flexibility than using federal forces. In addition to the PCA, Department of Defense regulations prohibit the types of assistance that federal forces could provide. Specifically, federal troops are prohibited from any civil law enforcement activity, including enforcing quarantine or isolation orders, enforcing curfews, or providing security at medical treatment sites.
Although the use of federal forces for law enforcement activities is limited, there are many other services they can provide. A Robert T. Stafford Act disaster declaration, coupled with a request from a governor to the president can allow for Department of Defense assistance. Under this mechanism, presidential direction can be issued to the defense secretary that allows for emergency assistance, "essential for the preservation of life and property. . . for a period not to exceed 10 days." Using this mechanism allows for federal troops to provide assistance, such as providing medical care.
Responding to the Current & Past National Emergencies
On 17 March 2020, President Donald Trump declared the COVID-19 pandemic a national emergency. This follows the declaration of a public health emergency from the U.S. Department of Health and Human Services on 31 January 2020.
So far, President Trump has approved major disaster declarations for New Jersey (March 26), Illinois (March 26), Maryland (March 26), Missouri (March 26), Texas (March 25), Florida (March 25), North Carolina (March 25), Iowa (March 24), Louisiana (March 24), Washington (March 22), California (March 22), and New York (March 20). Since he declared a national emergency, territories and tribal governments are not required to request individual emergency declarations.
As the pandemic continues to impact the United States, all options must be on the table. The PCA limits the ability of federal forces to be used as backup for local law enforcement. However, the National Guard, under Title 32 status, could be used to bolster law enforcement ranks depleted due to illness.
One other important consideration is the invocation of the Insurrection Act of 1807, which allows the president "to suppress, in any state, any insurrection, domestic violence….that hinders….or opposes or obstructs the laws." The Insurrection Act is an exception to the general prohibition against using the military for domestic law enforcement activities. When invoked, the PCA does not apply.
The use of Insurrection Act powers would not be unprecedented. In 1989, President George H. W. Bush issued a proclamation and sent troops to the Virgin Islands after the governor requested federal intervention. Over 1,100 federal troops, including military police, helped to restore order and quell looting on St. Croix.
In 1992, President Bush again used Insurrection Act powers and sent in federal forces to provide assistance with the Rodney King riots in Los Angeles, California. During these riots, local, county, and state police were bolstered by the National Guard and federal forces. During this time, the National Guard was federalized and brought under Title 10 jurisdiction.
It seems that the infection of more law enforcement officials is inevitable. As such, governors should begin considering how the National Guard and federal forces may serve as a backstop to ensure law and order are maintained during this public health crisis. In any event, it is of vital importance to ensure the brave men and women who are upholding peace and order during this time are provided with the latest medical information and guidance, as well as appropriate personal protective equipment.
For further information on this topic, see Practical Implications of Posse Comitatus Act on Military Integration into Local Health Department Disaster Planning and Response by Andrew Roszak, Sara Rubin, and Jack Herrmann (published in October 2013)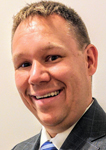 Andrew Roszak, JD, MPA, EMT-P, serves as the executive director for the Institute for Childhood Preparedness and as an advisor for the Domestic Preparedness Journal. He is the author of the Preparing for the Unexpected Series of books, which includes "Preschool Preparedness for an Active Shooter." He has spent over 20 years working on emergency preparedness, response, and recovery issues. He is admitted to the Illinois and District of Columbia Bars and is admitted to the Bar of the U.S. Supreme Court. Find him on Twitter: @AndyRoszak.