In August 2005, Hurricane Katrina made landfall in Louisiana, impacting the Pelican State with winds up to 174 miles per hour. While breached levees and the loss of homes, businesses, and lives made global news, they were not the only damages to follow the Category 5 storm. Many individuals displaced from the storm became victims of human trafficking. In the five years following Katrina, over 3,750 survivors of human trafficking were identified in the Gulf Coast region alone. For comparison, 2020 saw 386 new survivors identified in Louisiana through the National Human Trafficking Hotline.
Human trafficking, the "crime of using force, fraud, or coercion to compel an individual to work or to engage in a commercial sex act," is the world's second-largest criminal industry, generating an estimated $150 billion annually. In the wake of natural disasters like hurricanes, droughts, earthquakes, and floods, an individual's risk of being trafficked increases as traffickers often recruit and exploit victims from vulnerable populations. Certain pre-existing vulnerabilities are more likely to lead an individual into trafficking and are more likely to be exacerbated by disaster. Among the federal criminal human trafficking cases filed in 2021, adult victim vulnerabilities identified included financial debt (70%), financial insecurity (60%), undocumented status (49%), and limited English proficiency (47%). For minors, identified key vulnerabilities include being a runaway (76%), homelessness (8%), foster care (30%), previous trafficking victim (22%) or having undocumented status (5%).
In the wake of natural disasters, human trafficking cases rise. This article describes the threat and ways to mitigate the impact on vulnerable populations.
After natural disasters like Katrina, these already present vulnerabilities in communities are compounded as livelihoods and lives are lost, and communities are displaced from their support networks, leaving individuals more susceptible to traffickers. Additionally, limited resources force law enforcement's attention toward immediate rescue needs, leaving those vulnerable to the uptick in human trafficking with limited protection. Children orphaned or separated from their parents, women who have lost their homes and livelihoods, and immigrants flooding into the disaster-stricken area to work are particularly at risk for trafficking post-disaster.
Children orphaned or separated from their parents post-disaster can be highly traumatized and especially trusting of adults, increasing their risk of sex or labor trafficking. While they may not be runaways, many of these children are subject to the same vulnerabilities a runaway would experience due to separation from supportive adults. Beyond the immediate trauma and harm of natural disaster exposure, children are also more likely to suffer long-term physical, psychological, and educational deficits, which may lead to a vulnerability to trafficking in the future. Illegal adoptions can also occur post-disaster as traffickers take advantage of displaced children, selling them to remote families who believe they are helping a child in need. Though it is unclear how frequently this practice occurs in the U.S., it was prevalent after the 2010 earthquake in Haiti, when an unknown number of children were taken illegally from the country for international adoption.
Women also face an elevated trafficking risk post-disaster, especially for sex trafficking. Post-disaster, women may lose their jobs and homes, leading to poverty and financial debt – two key vulnerabilities that make them ready targets for traffickers. Traffickers often recruit victims by offering shelter, a way to make quick cash, or a way for individuals to get back on their feet. For example, after Hurricane Harvey, the prevalence of adult advertisements online doubled, with many offering rent-free accommodations to any "pretty girls wanting to make some quick money and recover losses after Harvey." Further, thousands of aid workers, such as construction and remediation crews, arriving in the post-disaster area can increase the demand for commercial sex, incentivizing traffickers to increase their supply by targeting vulnerable disaster victims.
Immigrants recruited to the post-disaster area for work are specifically at risk for labor trafficking. Post-disaster, there is an increased need for workers to repair damaged infrastructure and work in the local hospitality industry, which often hosts displaced individuals. Many of these jobs are considered undesirable by domestic laborers, driving up the demand for laborers from abroad. Immigrant workers – documented (through the H-2 visa program) and undocumented – are at an increased risk for labor trafficking. They often have limited English proficiency, financial debt, and financial insecurity. The H-2 visa, which is contingent on a worker remaining with a specific employer, creates an exploitative environment where employers may threaten and exploit workers unless they agree to work on particular terms.
Undocumented workers have even fewer rights and protections, making them exceptionally vulnerable to exploitation. Simultaneously, labor and immigration regulations are often relaxed after a natural disaster, compounding vulnerabilities, and creating situations ripe for human trafficking. For example, after Hurricane Katrina, Signal International (a Gulf Coast marine services company) used false promises of permanent U.S. residency to traffic hundreds of workers to the U.S. to repair damaged oil rigs and related facilities. The traffickers kept the men in guarded camps and threatened deportation if human rights abuses were reported. Since many of the trafficking victims had paid thousands of dollars to reach the U.S. and had their families' livelihoods on the line, many were deterred from reporting. Unfortunately, cases like these are not uncommon.
Human trafficking is an incredibly complex problem that cannot be solved by implementing a single remedy or solution. However, the uptick in trafficking of at-risk groups post-disaster can be mitigated through proper emergency preparedness and training. While some agencies and organizations offer anti-trafficking training programs, less than half of surveyed emergency medical services (EMS) workers have received training on human trafficking. With the frequency of natural disasters increasing by a factor of five over the past 50 years and continuing to rise, human trafficking will only become a more pressing issue. There are steps federal, state, and local governments, corporations, and civil society organizations can take now in preparation to fight human trafficking:
  Establish more in-depth anti-trafficking training for front-line workers and ensure all front-line workers receive training. For example, in June 2022, the Texas Division of Emergency Management included presentations during its annual conference on how to recognize human trafficking post-disaster and how emergency management can help prevent trafficking. Effective training should consist of materials that highlight:

The signs of human trafficking post-disaster,
Legal definitions of human trafficking,
Local trafficking statistics,
Who is at risk for trafficking,
How people fall victim to traffickers,
How traffickers control people,
Common trafficking settings, and
How to ask questions of and listen to suspected victims.

Develop toolkits with direct outreach materials, policies, and phone numbers to contact for assistance in multiple languages.
Promote public awareness campaigns on trafficking surrounding natural disasters, including common phrases used by traffickers that civilians should watch out for and the risks of trafficking before and during disasters. This information should be posted in emergency shelters to ensure it reaches at-risk people.
 Ensure greater resources for law enforcement and front-line workers post-disaster to fortify anti-trafficking work amidst ongoing rescue efforts.
  Provide women with a way to make cash locally and quickly post-disaster to minimize their risk of trafficking. For example, after Hurricane Matthew landed in Haiti, UNICEF effectively partnered with cash-for-work companies to hire women to assemble needed hygiene kits.
  Prioritize safe environments for children post-disaster to decrease the risk of recruitment and exploitation by traffickers.
  Avoid relaxing labor and immigration standards post-disaster, as this can exacerbate trafficking.
Any combination of these approaches can help to limit trafficking post-disaster. Most importantly, though, steps to implement these programs should be included in emergency management so the U.S. is prepared to fight human trafficking when disaster strikes.
If you, or you suspect someone might be a victim of human trafficking, contact the National Human Trafficking Hotline at (888) 373-7888.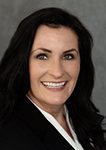 Lindsey Lane is the senior legal counsel for the Human Trafficking Institute (HTI) in Washington, DC. At HTI, she serves as the lead architect and author of the Federal Human Trafficking Report. She manages data collection and analysis of federal human trafficking cases and briefs government leaders and anti-trafficking stakeholders on key findings and emerging trends in federal human trafficking cases. She is the country program attorney for HTI's anti-trafficking efforts in Belize and formerly served as a prosecutor at both the state and federal levels, most recently serving as a human trafficking prosecutor for the State of North Carolina.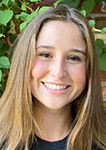 Hailey York is a second-year law student at Georgetown University Law Center, where she studies international and domestic human rights law and policy. She currently serves as an intern with the Human Trafficking Institute (HTI) in Washington, DC. She is a 2021 graduate of Gonzaga University with degrees in International Relations and Political Science.