Technology such as drones, robots, listening and visual devices, etc., have successfully been used for search and rescue operations in numerous disaster responses. Yet, in many ways, a tool used for centuries continues to be as valuable, if not more effective, in finding and rescuing lost and trapped persons, recovering the dead, and other disaster response tasks. This invaluable tool is the specially trained search and rescue canine.
Canines in Service Over Centuries
Canines have been used in search and rescue operations for centuries. It is well documented that the monks used dogs at St. Bernard Hospice in Switzerland to search for lost travelers in the 1700s. During the World Wars, dogs were trained to find wounded soldiers. The military and civilians have utilized canines over the decades to assist with various types of "nose" work, including locating the enemy on the battlefield, finding bombs, cadavers, and evidence of arson and illicit drugs. The Federal Emergency Management Agency (FEMA) has been using canines to search for humans, alive or dead, during disasters since 1989, when they first established the National Urban Search and Rescue Response System.
Numerous case studies demonstrate the value of a canine search team (canine and handler). Examples include:
The 9/11 operations at the Twin Towers site in New York City – On September 12, 2001 (27 hours after the towers collapsed), Genelle Guzman-McMillan was the last survivor removed from the rubble thanks to a police search dog named Trakr.
June 23, 2021, Champlain Tower Collapse in Surfside, Florida – Canines were instrumental in locating the remains of victims to help bring closure to families.
After the 7.8-magnitude earthquake on February 6, 2023, in Turkey and Syria – Over 100 specially trained canine teams from all over the world descended upon the area to help locate survivors.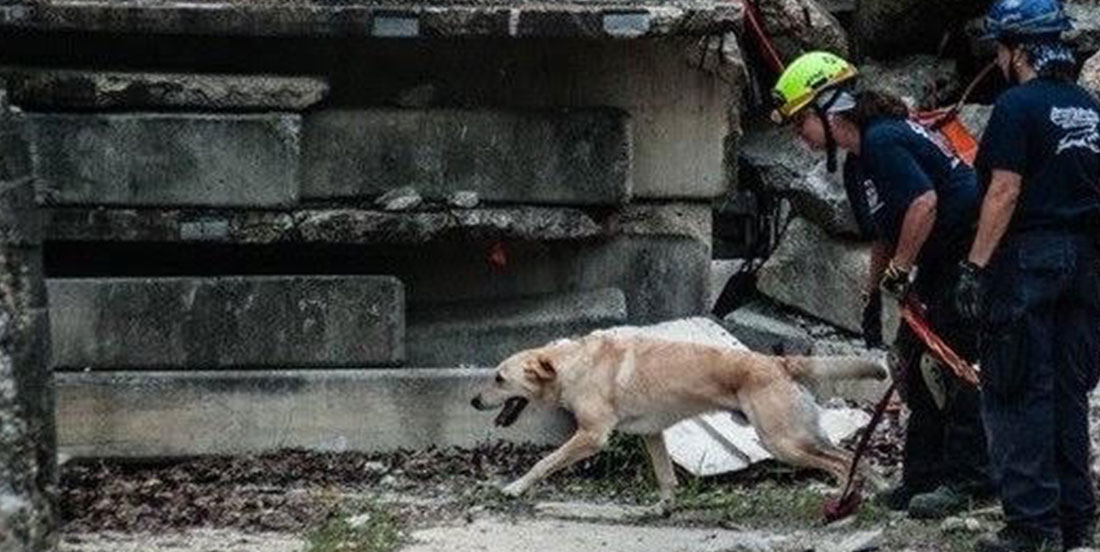 Many catastrophic collapse events employ canine teams and technology to aid in searching for survivors, as they both offer benefits. However, a canine can provide something technology cannot; they can show love, affection, and compassion. Dogs can offer psychological first aid to rescuers, survivors, bystanders, and anyone impacted by the event. Studies have shown that simply petting a dog has numerous health benefits, including lowering blood pressure, regulating cortisol levels, and relieving stress by releasing feel-good hormones like serotonin and dopamine.
For decades, scientists have tried to create mechanical devices that can duplicate and outperform a canine's sense of smell. In 1997, Defense Advanced Research Projects Agency (DARPA) distributed $25 million in grants to agencies to develop a "Dog's Nose." That project aimed to find buried landmines left over from wars worldwide. By 2010, the Joint Improvised Explosive Detection Defeat Organization commander admitted that the technology developed to identify improvised explosive devices (IEDs) was only 50% successful. In contrast, canines successfully identified the devices 80% of the time. According to Roderick Kunz, from the Massachusetts Institute of Technology, "Our feeling is that such a tool is better directed at improving the already best detectors in the world – canines."
Canine Anatomy and Physiology – Pros and Cons
Heightened senses make canines uniquely qualified for various disaster response tasks. For example, canines have a highly developed sense of smell thanks to their complex nasal design and large olfactory bulb in the brain. In addition, canines' eyes have more rods, which allows them to see better than humans in low light. And canines' hearing is more sophisticated than that of humans, as they detect much higher frequencies and softer sounds.
Canines possess incredible speed, agility, flexibility, and durability and do not require batteries or electricity. They are portable, with handlers able to transport them easily and rapidly by plane, train, boat, or aircraft. Canines also can determine the results of a search in real-time while sometimes going where humans or technological devices cannot.
Unfortunately, there are a few caveats. Canines have, on average, a shelf life of 9-10 years of active search work. Because they are living, breathing animals, they need food, water, rest, conditioning, training, and medical care to perform at their best. In addition, weather conditions, terrain, chemical exposure, and explosive devices must be considered when deploying a canine into a disaster zone.
Considerations for Canine Detection Assets
On the national level, there are 28 FEMA search and rescue teams scattered throughout the United States. Within those teams, approximately 280 canine teams specialize in locating survivors, and 90 focus on locating human remains. Each canine/handler team must pass two certification exams every three years. The first exam is the Fundamental Skills Evaluation (FSA), during which the team demonstrates capability in all aspects of search – including obedience, direction control, victim loyalty, agility, lack of aggression with other canines, and the search. After completing the FSA, the team completes a Certification Exam (CE). The canine and handler are deemed a FEMA team when both tests are successfully concluded. It is then up to their FEMA Urban Search and Rescue (USAR) team to determine whether they are deployable based on additional team requirements.
Public service agencies considering integrating canine teams into local search and rescue operations should consider what would be involved in starting such a program. Talking to experienced handlers who have deployed to previous disasters is a good starting point. Key points of discussion and consideration include but are not limited to:
Funding for K9 programs – Consider grants and other funding resources.
K9 and handler training – The types of training vary, with some handlers learning outside formal programs from each other in a peer-to-peer type system. The National Disaster Search Dog Foundation (SDF) and Penn Vet Working Dog Center train canines.  SDF also pairs first responders with the dogs they train. Many teams have open training to help develop and enforce skills. Some wilderness teams have seminars to help as well. FEMA's canine search specialists must take a Canine Search Specialist training course.
Canine care – Detection canines are trained as athletes to build strength, flexibility, endurance, etc. They are part of the family but should not be treated as pets.
Emotional and psychological aspects – The dogs and their handlers are partners, and their bonds are tremendous. Grief is the same for both if one or the other is killed in action.
On-scene interactions – Many search team managers and taskforce leaders are uncertain of the many ways to utilize K9s on the scene. Therefore, they must attend trainings to understand the value K9 teams offer.
A late 2022 survey of search team members and canine handlers across the United States found that most handlers and search team members believe canines are superior to technology in many areas. Canines' legacy, anatomy, and physiology make them a proven tool for emergency response. However, by leveraging the benefits of canines and technology, responders will find the combination of both to be vital for the successful outcome of the search.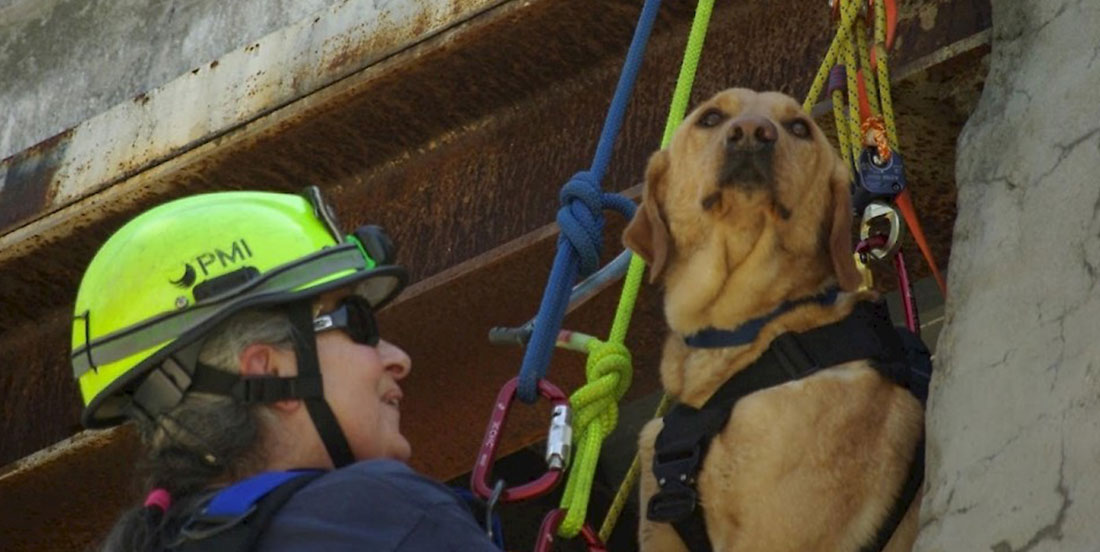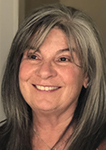 Barb Clark has been an active search and rescue (SAR) handler for 14 years and a Federal Emergency Management Agency Urban Search and Rescue (FEMA USAR) handler for 13. For the past nine years, she was the training and exercise manager of the Intermountain Center for Disaster Preparedness (ICDP), where she conducted, created, and facilitated courses in all aspects of emergency management for the whole community. Recently, she moved into a business continuity role with Intermountain Health. Over her career, she has worked in Emergency Services in Utah and Idaho as a fire captain, training officer, safety officer, and paramedic. While with Boise Fire Department, she specialized in fire ground medical rehab and triage for mass causality events. She has an undergraduate degree from the University of Utah and numerous certifications in Emergency Medical Services and emergency management, including HazMed technician, state and federal instructor, and Master Exercise Practitioner. She received her master's in Emergency Response and Risk Management from the University of Applied Research and Development in 2022. Currently, she serves as a canine handler with the FEMA USAR team, Utah Task Force1.